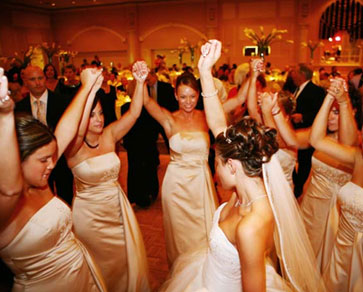 SPECIAL EVENTS & WEDDINGS
Create a completely different experience for your special event or wedding.
We do different, from weddings to bar mitzvahs, celebrations and other special events, thanks to dedicated, experienced and professional event planners who listen to your every need and then help you create a memorable event. From facility visits and menu planning to detailed timelines and services, our planners deliver a seamless, well-organized process.
Complete in-house audio-visual resources plus customized lighting packages, staging and backdrops are available for privately arranged entertainment, presentations or ceremonies.
The Chase Center partners with an array of top service vendors, including florists, entertainers, bakeries, decorators, specialty linens and decor equipment, to add the finishing touches to your event.
Another we-do-different advantage? We can help arrange reservations for your out-of-town guests to stay at the beautiful Westin Wilmington Hotel, which is directly connected to the Chase Center and offers Traditional and Premium Guest Rooms, Executive and Deluxe Suites, and a top-floor Renewal Suite.
We offer a variety of menu options for elegant receptions and seated or buffet presentations, as well as three all-inclusive wedding packages with added amenities.
Ethnic celebrations, done culturally correct.
Whatever your heritage, religion, culture or traditions, it's cause for celebration. We do different  than other venues by working closely with you to provide specialized foods, beverages, music, decorations and more, and to create an authentic event you won't forget. Just ask.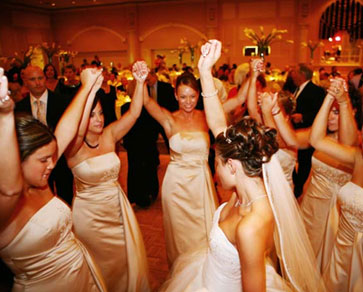 The wedding flew by so fast. I can't even begin to tell you how smooth it went! Everything was perfect! Everyone loved the venue—they were all blown away! Thanks so much.
Please thank your event staff for such a phenomenal and flawless wedding. We got compliments all night on the beautiful venue, the incredible food, and the coordinators who worked to make our night unforgettable. What a great experience for the best day of our lives!
Our daughter Lindsey was married at the Chase Center and the event was more than we could have ever hoped for. Lindsey had a clear vision of what she wanted and your Sales Manager was instrumental in helping plan the wedding of her dreams, from interfacing with all of our vendors, to reserved parking, to the communications we sent to our guests. Because of her, Lindsey's wedding will live in our memories forever.
PHOTO GALLERY
As you can see, there's always something different happening for brides, grooms and their guests at the Chase Center on the Riverfront.