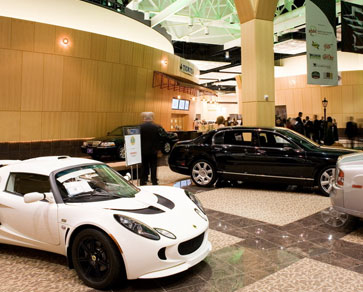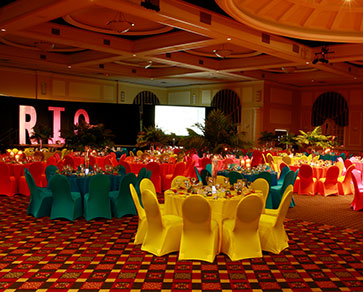 ABOUT THE CHASE CENTER
The Chase Center on the Riverfront has a proud and unique heritage. Originally a shipbuilding facility during World War II, it later became the First USA Riverfront Arts Center, hosting world-class exhibitions. In 2005, it transitioned to a multipurpose special events facility, and was renamed Chase Center on the Riverfront. Today the center hosts all types of events—from small meetings and large multiday conferences, conventions and trade shows to social galas, weddings, community events and other celebrations—attracting people throughout the region and beyond.
A key feature of the Chase Center is its direct connection to the luxurious 180-room Westin Wilmington Hotel, which offers extra convenience for event attendees. This modern hotel is pet-friendly and provides event spaces for smaller groups. It also features a dedicated Legal Center to serve law firms in need of secure space when trying cases in Delaware. Within the Legal Center are private offices, a board room and hospitality area. Plus, Westin's own River Rock Kitchen restaurant features American cuisine that is authentic, healthful and seasonal.
Together, the Chase Center and Westin Hotel comprise 90,000 square feet of meeting and exhibit space, including ample conference rooms, a 250-seat auditorium, an open exhibit area and several beautiful ballrooms.
In addition, there are two new hotels on the Riverfront landscape, the 120 room Homewood Suites by Hilton Wilmington Delaware and the 114 room Hyatt Place.
The center and hotel are both within walking distance of excellent riverfront restaurants, an IMAX theater, an opera house, museums, concerts, river-taxi cruises and Wilmington Blue Rocks minor league baseball. Plus, the world-renowned Winterthur Museum and Longwood Gardens are just a short drive away.
There is so much to see and do in and around the Chase Center. Discover what "We do different" can do for your next event.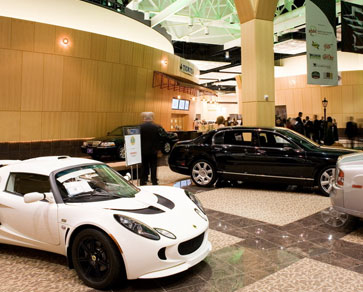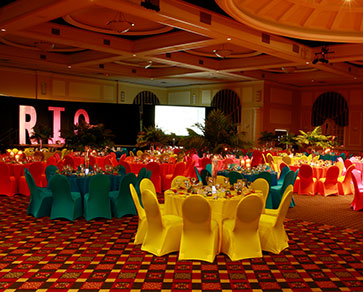 John Casagrande
John Casagrande is the Assistant General Manager at the Chase Center where he is hands-on in all aspects of the day-to-day operations including sales, financials, human resources, operations and employee management. You will often see John interacting with clients and guests always working to ensure a flawless event experience. Although he has only been with the Chase Center for two years, John has worked in the hospitality industry for thirty years with a focus in conference center and facility management. In his free time, John likes to spend time with his wife of twenty years and his three children. He also enjoys watching and playing anything sports related.
Emily Ferris
Emily Ferris joined the Chase Center as a Sales Manager in November of 2017. She came with two decades of experience in Catering Sales and Event Planning. Emily prides herself on being detail oriented and customer focused. Her style is personal and accommodating. She enjoys collaborating with her clients to plan weddings, social events and galas. She is also well versed in planning trade shows, corporate and association conferences. Emily and her husband of 20 years live in Newark, Delaware with their three children and two rescue dogs.
Garrard Gray
Garrard Gray is Operations Manager and has been with the Chase Center for four years. Garrard's career, as a hospitality professional, spans over 10 years where he has held jobs as a bartender, banquet server, food and beverage supervisor and banquet manager. He manages daily events, conferences and trade shows alongside his team, who together, continually strive to maintain the highest standards and superior customer service. Garrard believes that it's never just enough to have happy clients and guests. He works hard to exceed expectations and to create a raving guest experience. In his free time, he loves taking his sons to Karate class. His oldest son is a Second Degree Black belt and his youngest son is a white/purple belt. Working in hospitality and raising 2 young children is a challenge, so any time he can spend with his lovely wife of 9 years is always a bonus!
Dee Huntsman
Dee Huntsman is the Assistant Director of Sales and has been with the Chase Center since 2012. Before joining the Chase Center team, Dee already had over 10 years of experience in the hospitality industry. She began her career in Southern California working at hotels, resorts, private beach clubs and country clubs. Dee moved to the Delaware area in 2006 where she continued her career in hospitality before coming on board at the Chase Center. Dee is very collaborative and provides experienced guidance to a wide range of clients, but specializes in multi-day conferences and tradeshows and has a special touch with weddings. In her free time, Dee enjoys traveling, museums, cooking, wine tasting, playing with her dog and anything science related.
Felix Maietta
Chef Felix Maietta is an award winning Chef with over 30 years' experience in all facets of the food service industry. He has been the Executive Chef at the Chase Center for four years and also serves as Regional Executive Chef for Sodexo's Sports and Leisure Division offering operational support to Chefs and the regional team. He is a results focused hospitality professional with a contagious passion for excellence. Chef Felix's culinary program offers a wide variety of on-trend menu options, and he has also completed the Beyond Celiac GREAT Kitchens gluten free training course and is well versed in the areas of special dietary needs. He is often a guest speaker in this area for the International Association of Conference Centers (IACC) and Sodexo. In his free time, Felix enjoys spending time with his wife traveling, entertaining and cooking for family and friends, sitting by the ocean and playing golf.
Kevin Willis
Kevin Willis has been the General Manager of the Chase Center for six years, and has over thirty years of industry experience. He grew up in a hospitality family where he learned at an early age to wash dishes, cook, tend bar, set rooms, and anything else that needed to be done. He has served as general manager for organizations such as, Hilton, Brock, and Marriott Corporation. Kevin's key leadership and organizational objectives are to provide support to his team and value to the community, building strong partnerships, responding to our ever changing market demands, discovering solutions that fit our client's goals and needs, leading the charge on best sustainability practices and collaborating with his team to re-imagine unique meeting and event experiences. Kevin is an avid animal lover who enjoys reading, cooking, and especially spending time with his wife of 28 years, Suzanne, and their two grandchildren, Juliet and Caleb.